Roometric — iOS, Android, Public website UI Design, UX Design, Communication Design
Designing in Augmented Reality to decrease illegally high rents and plan interiors.
Based in Berlin, Roometric provides mobile measurement solutions. Their apps generate 3D interior scans with only a smartphone. Scans can be imported into interior planning solutions or used to calculate if the rent is illegally high.
The challenge
Redesign a complicated Augmented Reality interior scanning process. There was no clear flow and major inconsistencies in the information architecture presented problems for the users — identical elements behaved differently on different screens, and back/cancel hierarchy was not consistent.
My process
Observing users while they used the app and getting informed about the technical limitations of the software helped me define a new user flow. Each revision of the main feature — the scanning process — was tested with 3 users. The rest of the app was structured and designed following regular UI & UX practices. I complimented the new design with a public website.
Results
A step-by-step wizard was implemented to simplify the measurement process. The information structure was revised with success messages and improved with guides and scanning tips. Users were provided with consistent back functionality and warnings for destructive actions.
The number of steps in the main flow was decreased, speeding up the measurement process by 30%.
Information architecture
Based on user observations and stakeholder interviews, revised information architecture was designed
 for future reference. This helped in pinpointing and correcting UX problems.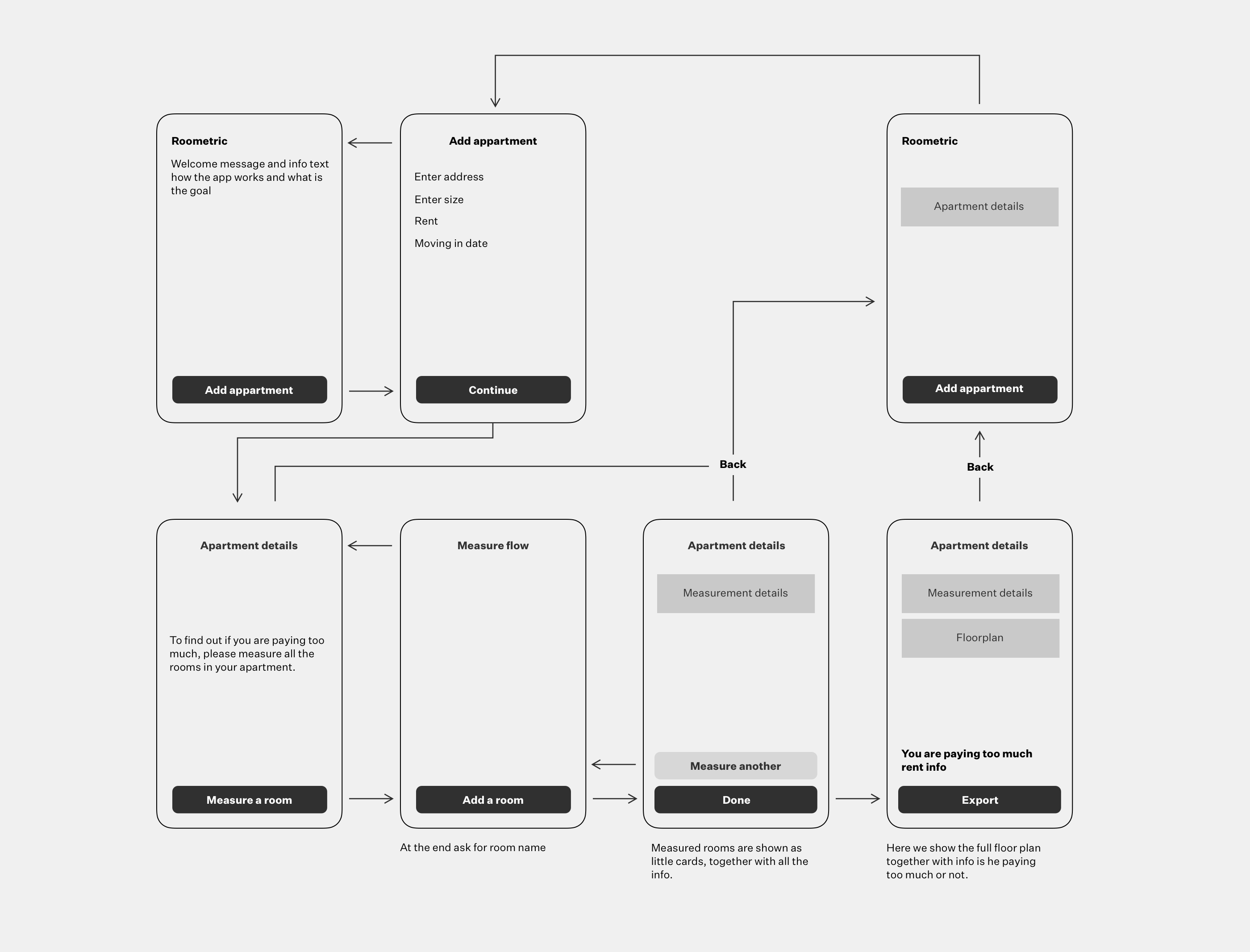 A detailed flow diagram helped me to streamline the measurement process. A step-by-step wizard guides the users through the process.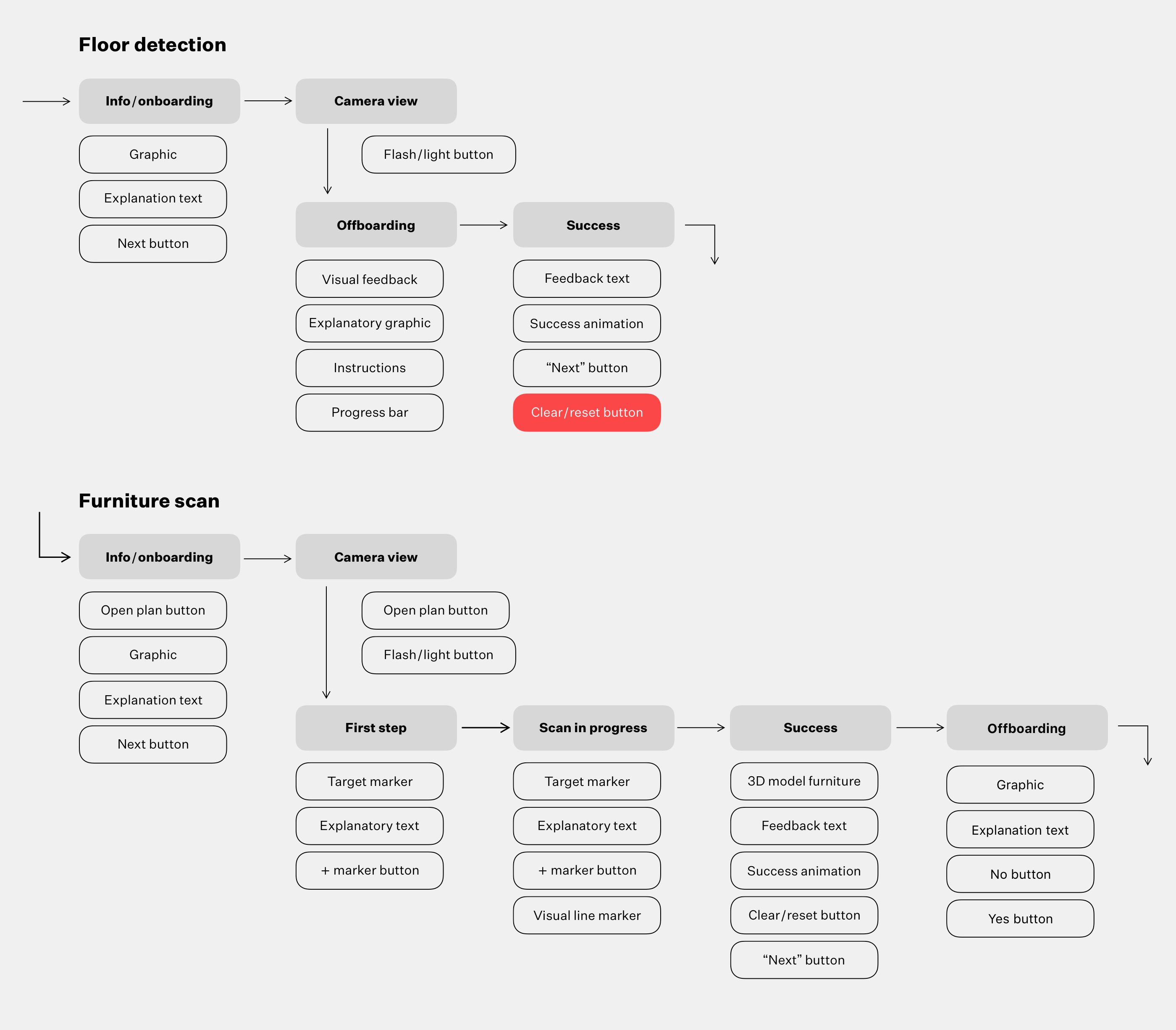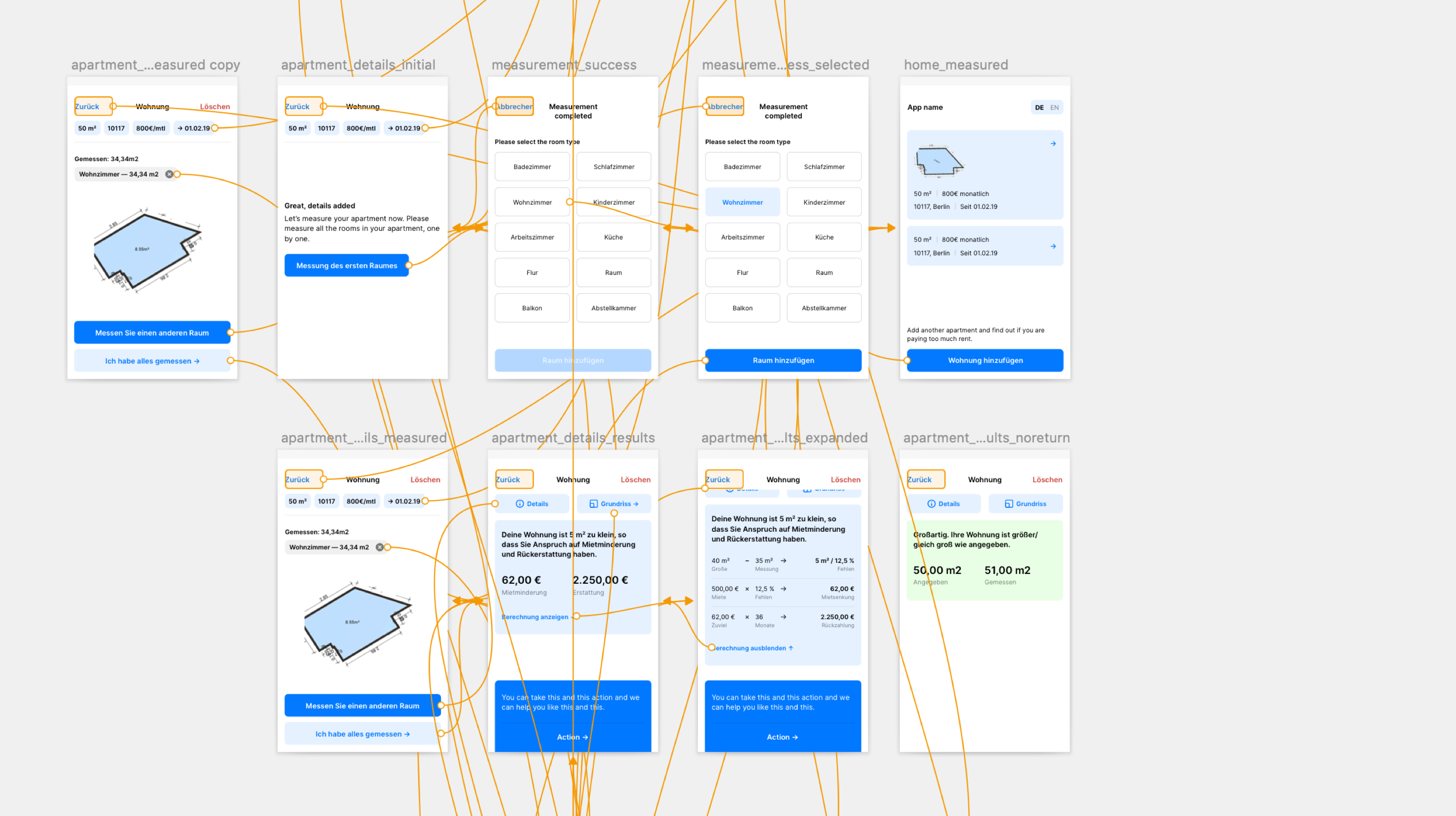 A sketch prototype was used for testing.
AR measuring
Users can see their measured apartments or start a new measurement directly from the home screen.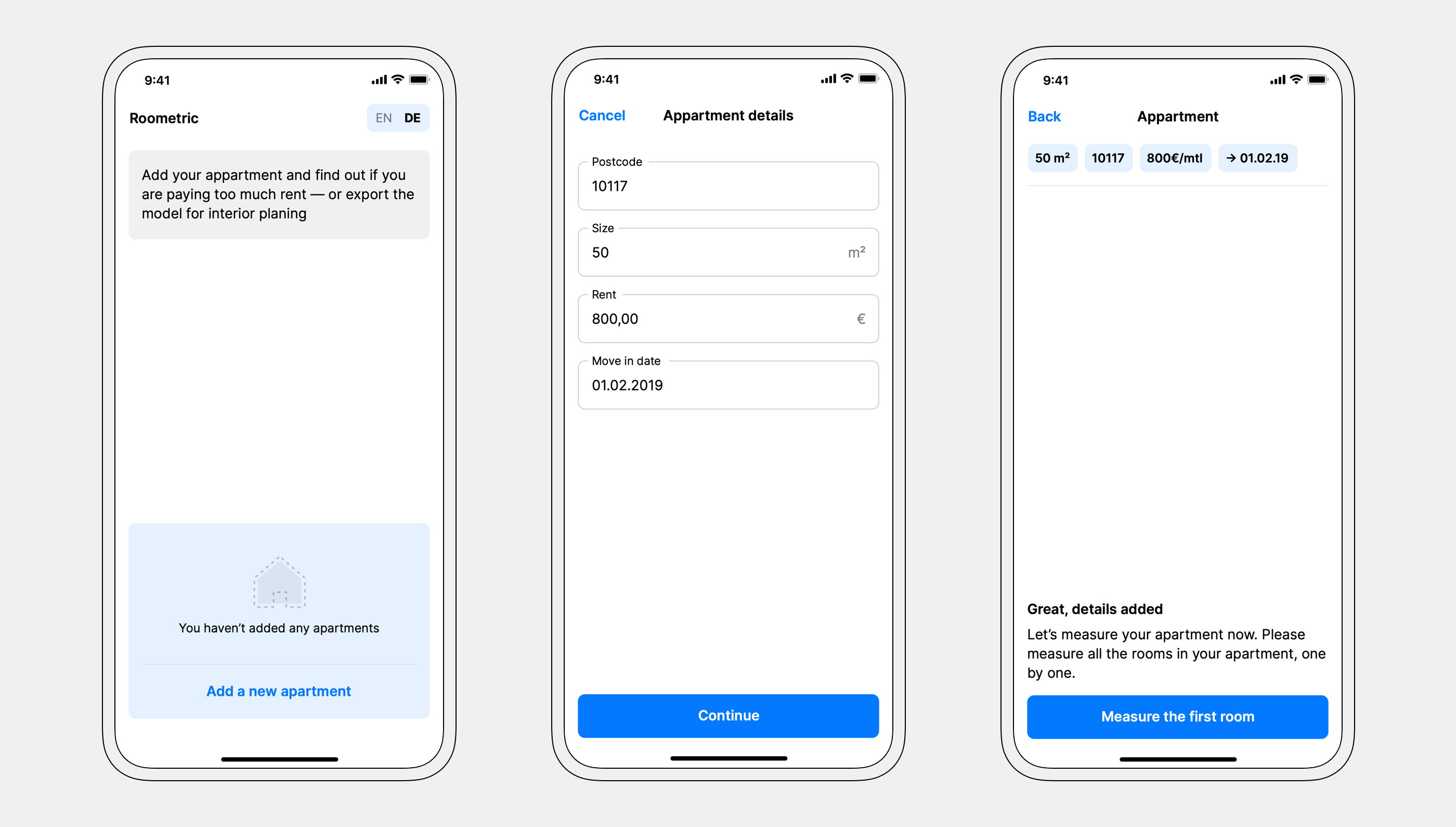 Empty state illustration invites users to start scanning.
Most of the users were not familiar
 with AR, so it is important to provide them with constructive and timely instructions and feedback. Each measurement step is categorized based on the objects user will be measuring in that step.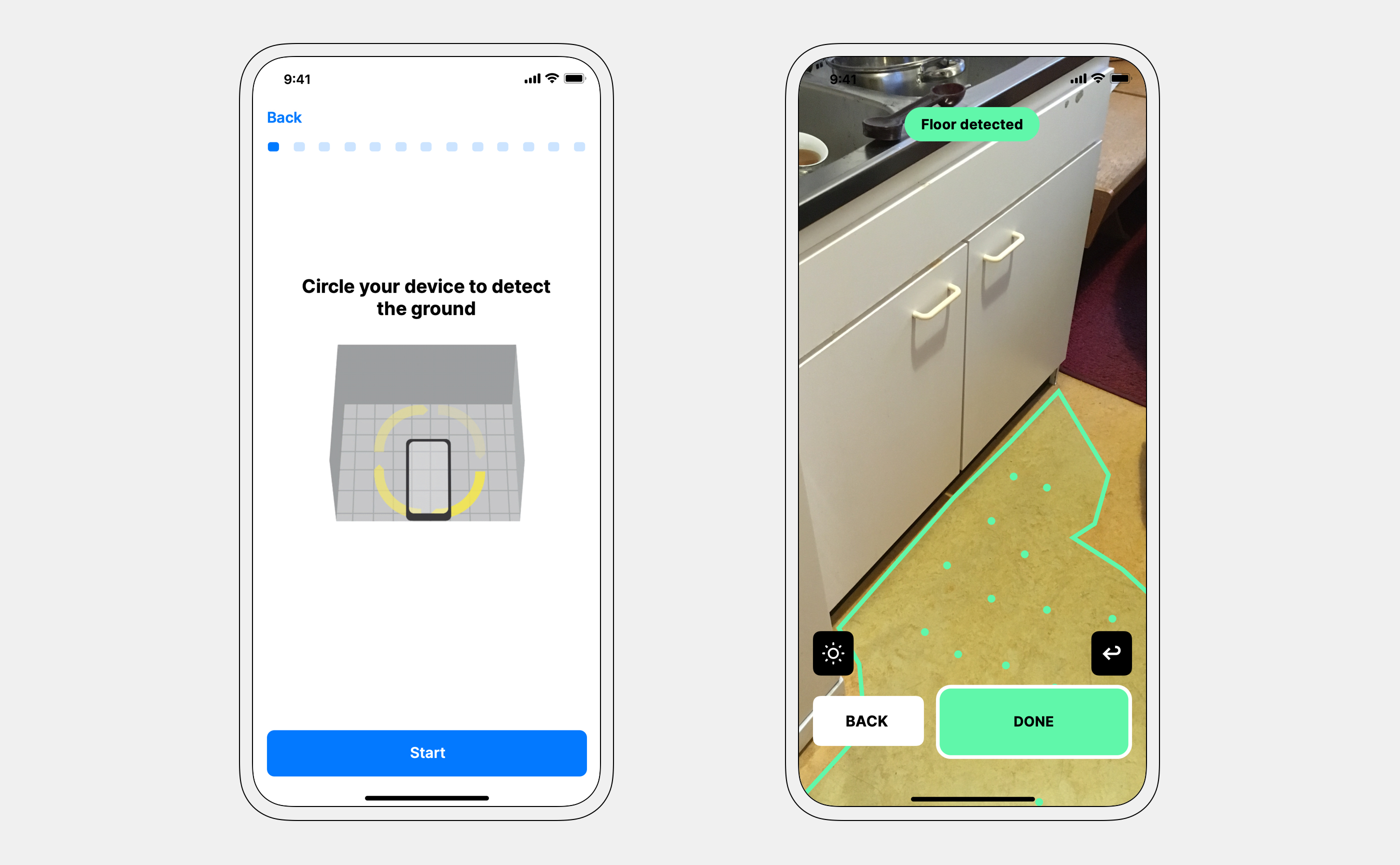 Measuring is done by tapping the "+" button when it is aligned with a corner of the measured object. Measurements are immediately calculated and overlayed in AR, providing reassurance that the scan is going well.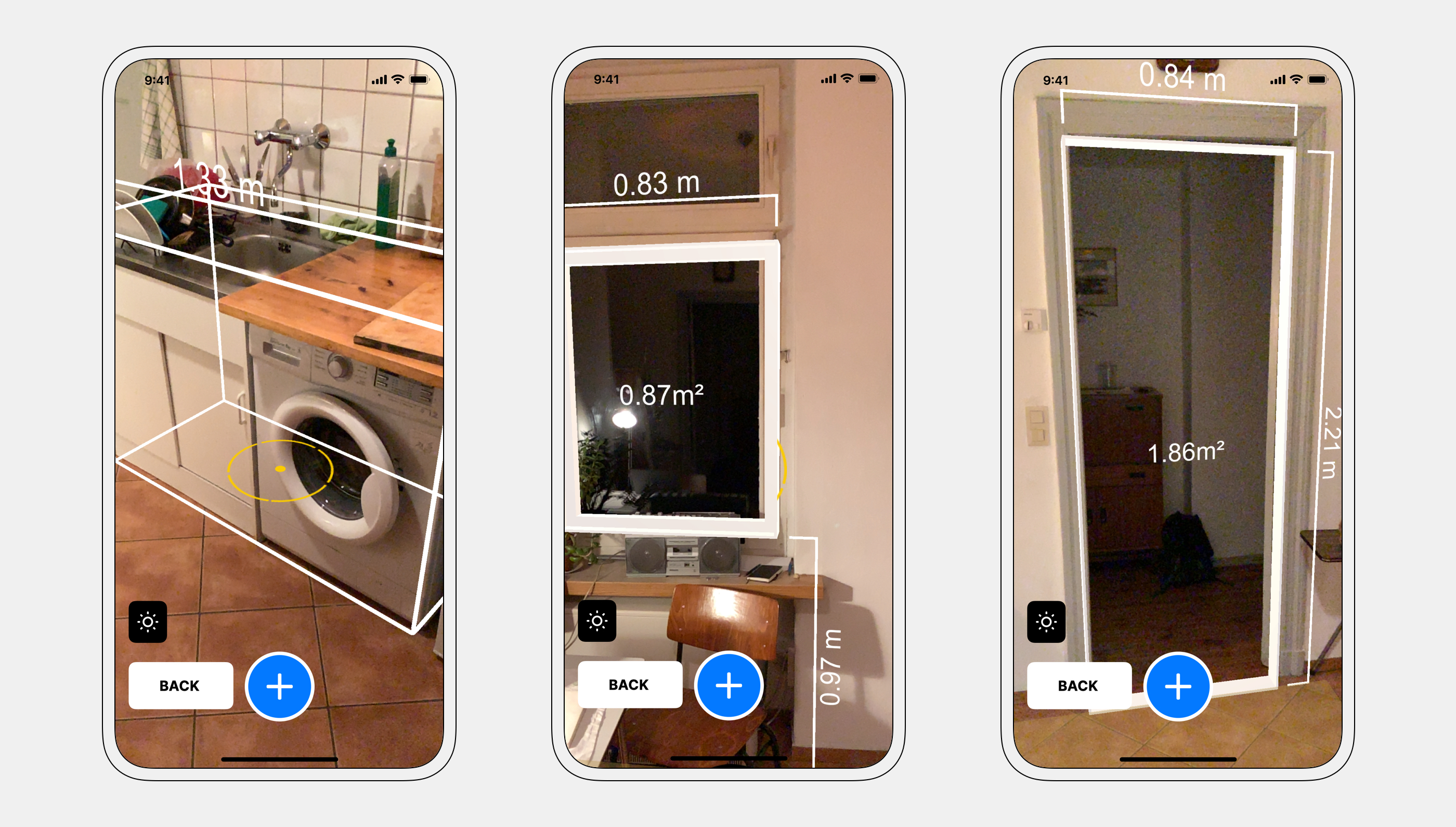 Measuring instructions are shown on every step.
After the scan
Potential rent decrease and payback are shown if the user pays too much rent. The app compares the rent to the law defined limit for that area and housing size.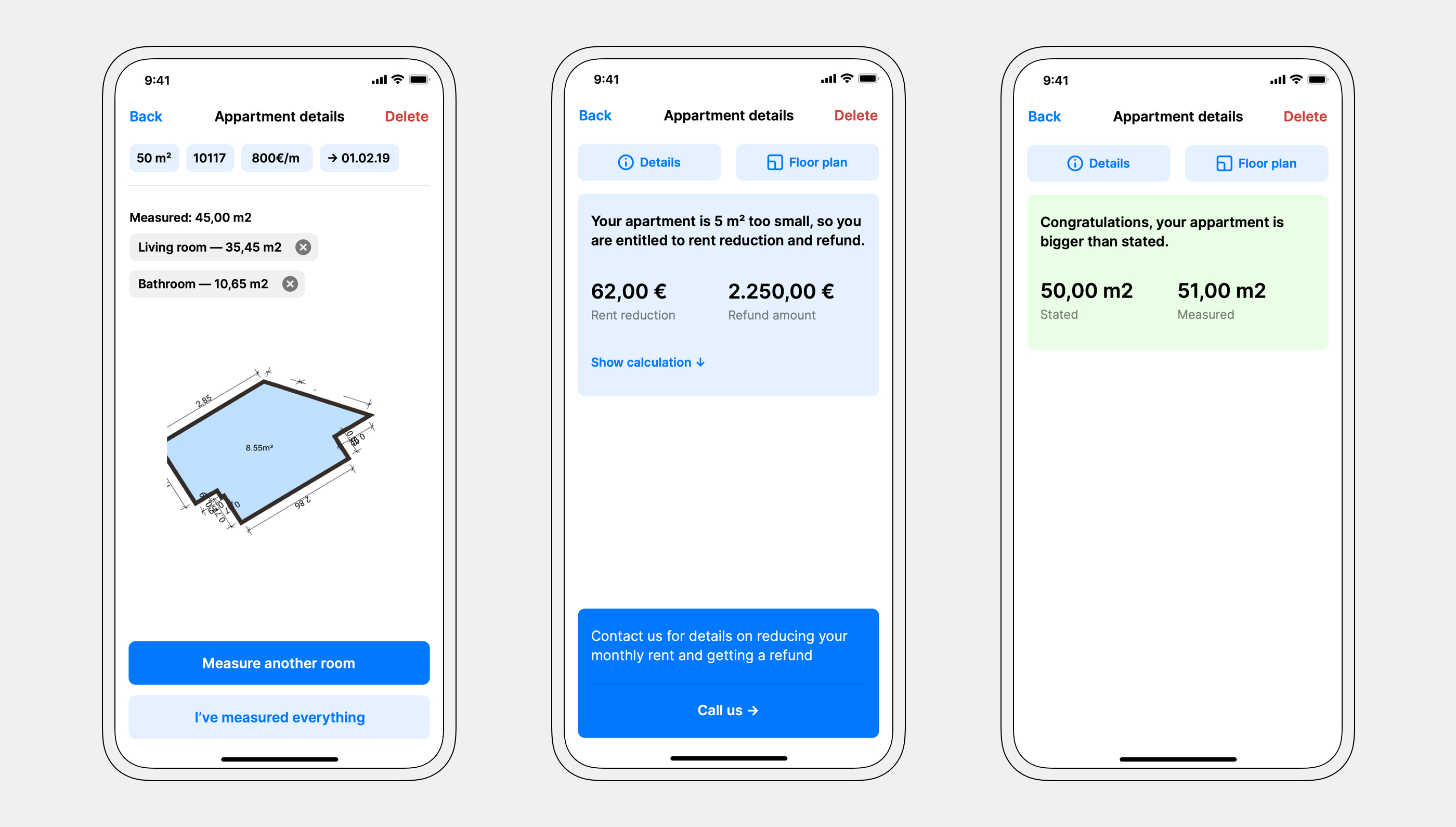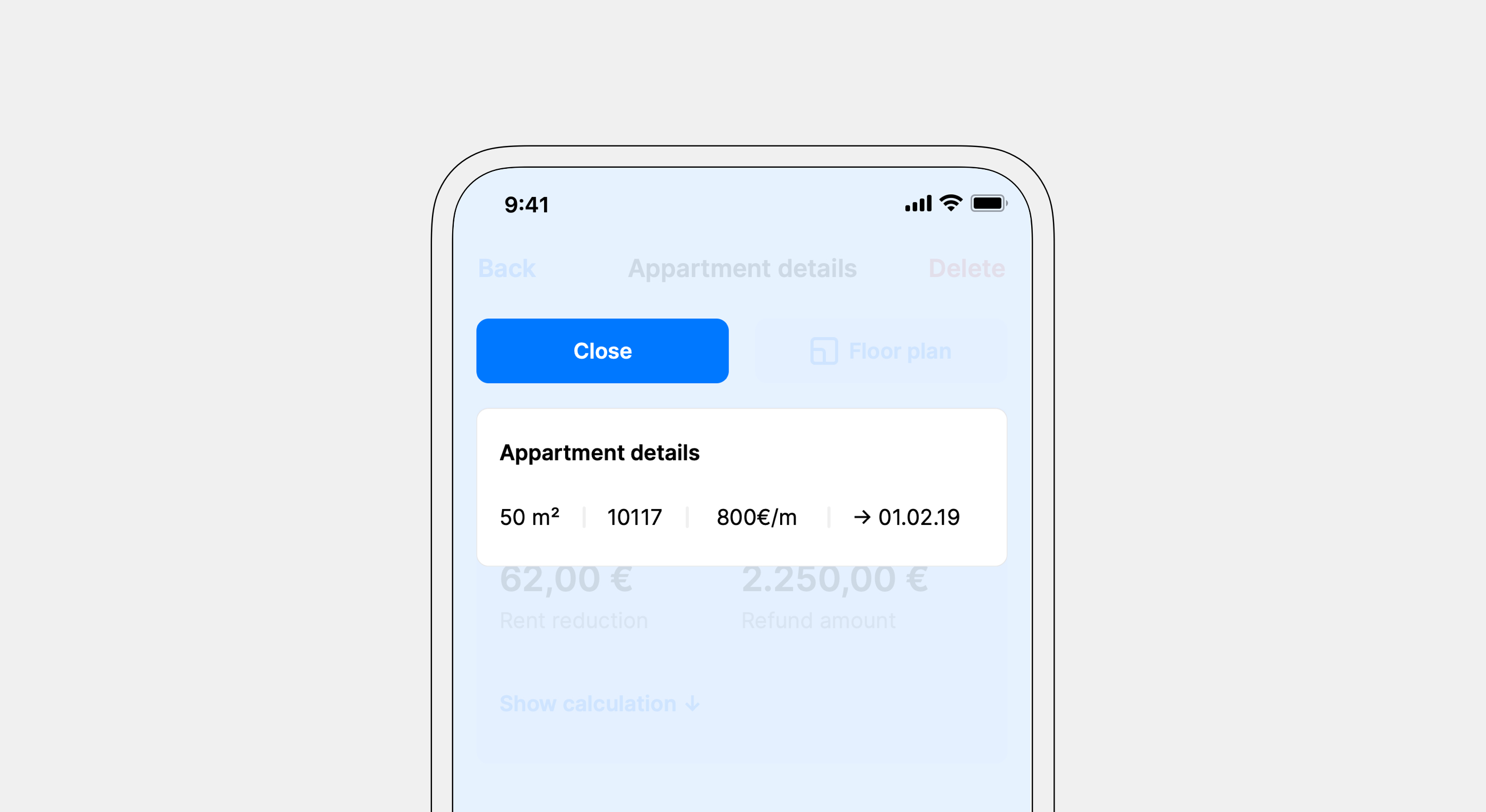 Apartment details are shown in a contextual menu.
The user is presented with a full 3D model — with floor and wall area surface calculated automatically.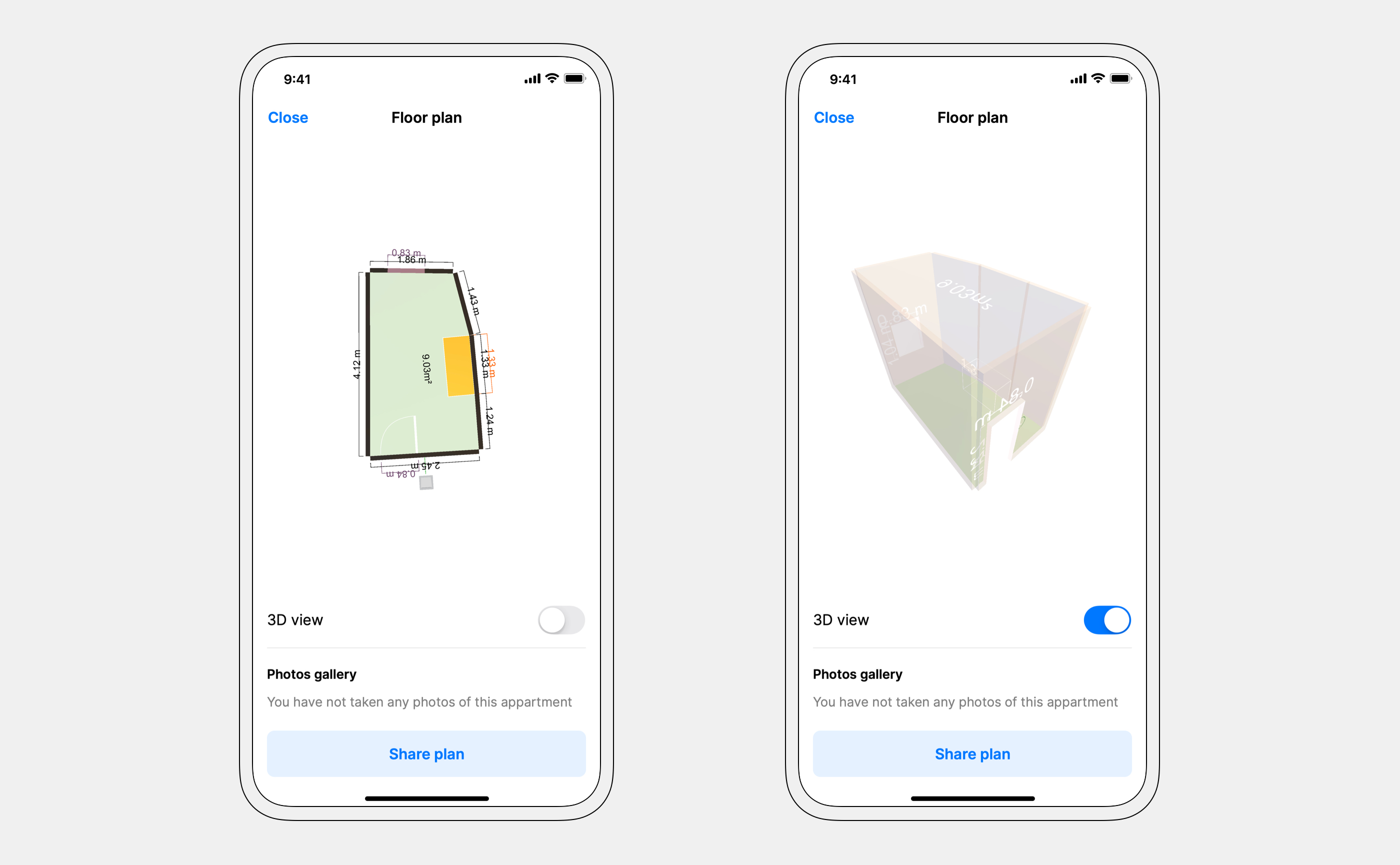 Users can export a scan with all the measurements and elements or upload it to 3rd party services — easily sharing their apartment plan with interior designers.
Design system
A minimal amount of colors and elements puts the focus on the AR experience. Since the app was developed in Unity, Inter typeface — carefully crafted & designed for screens — was used across both platforms.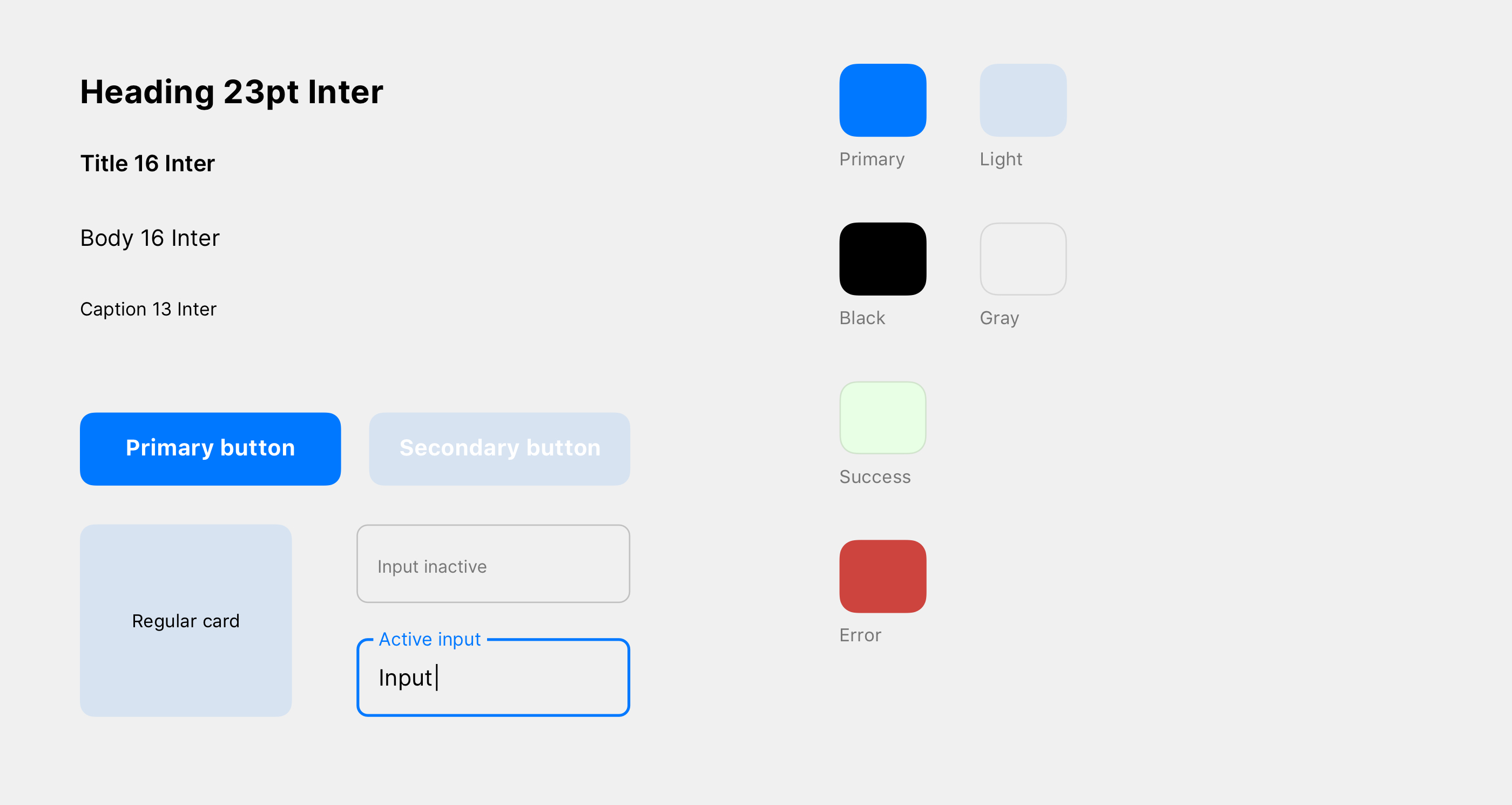 Public website
The new visual language was applied to a simple landing page as well— communicating the features and advantages of Roometric to private and business customers.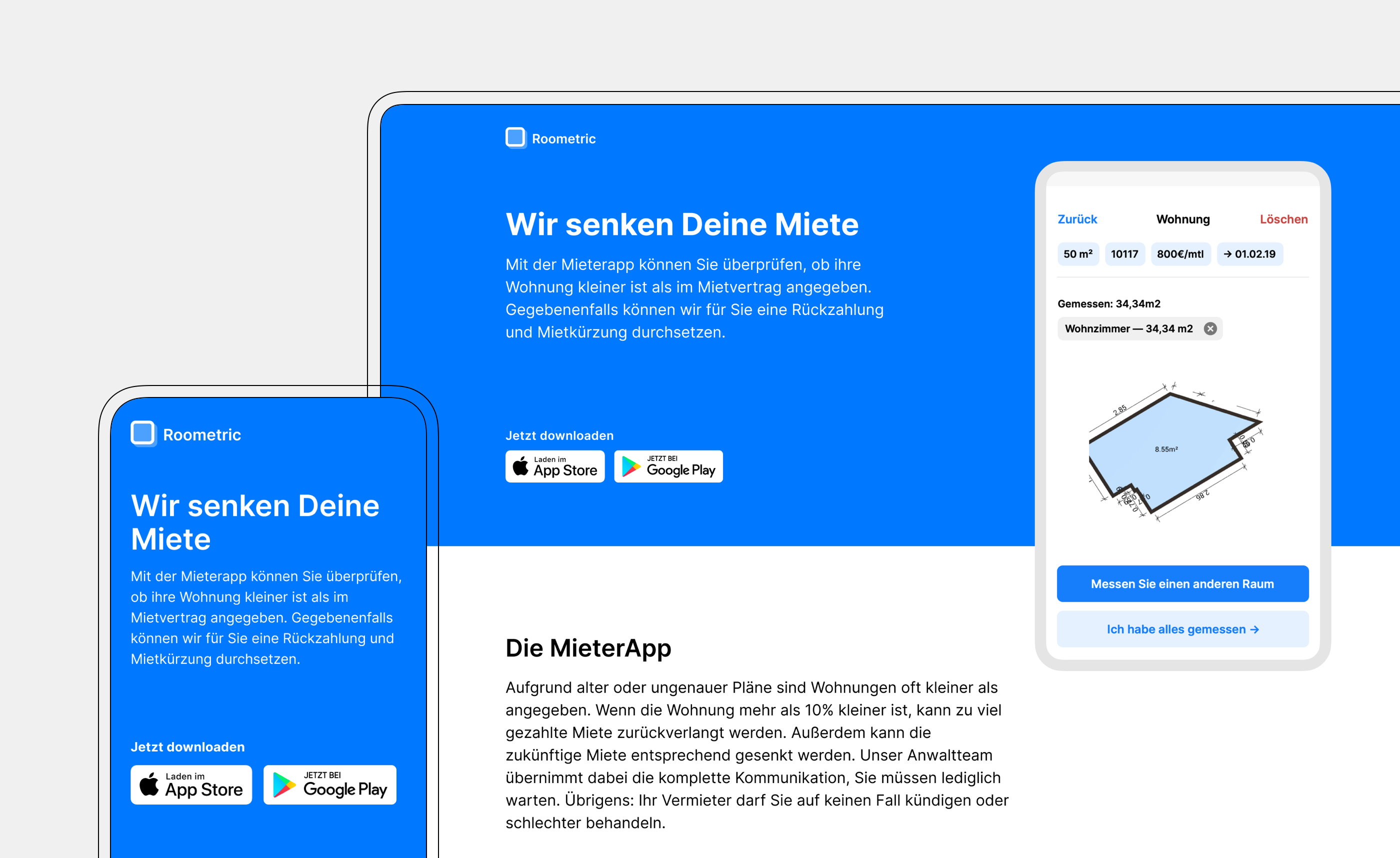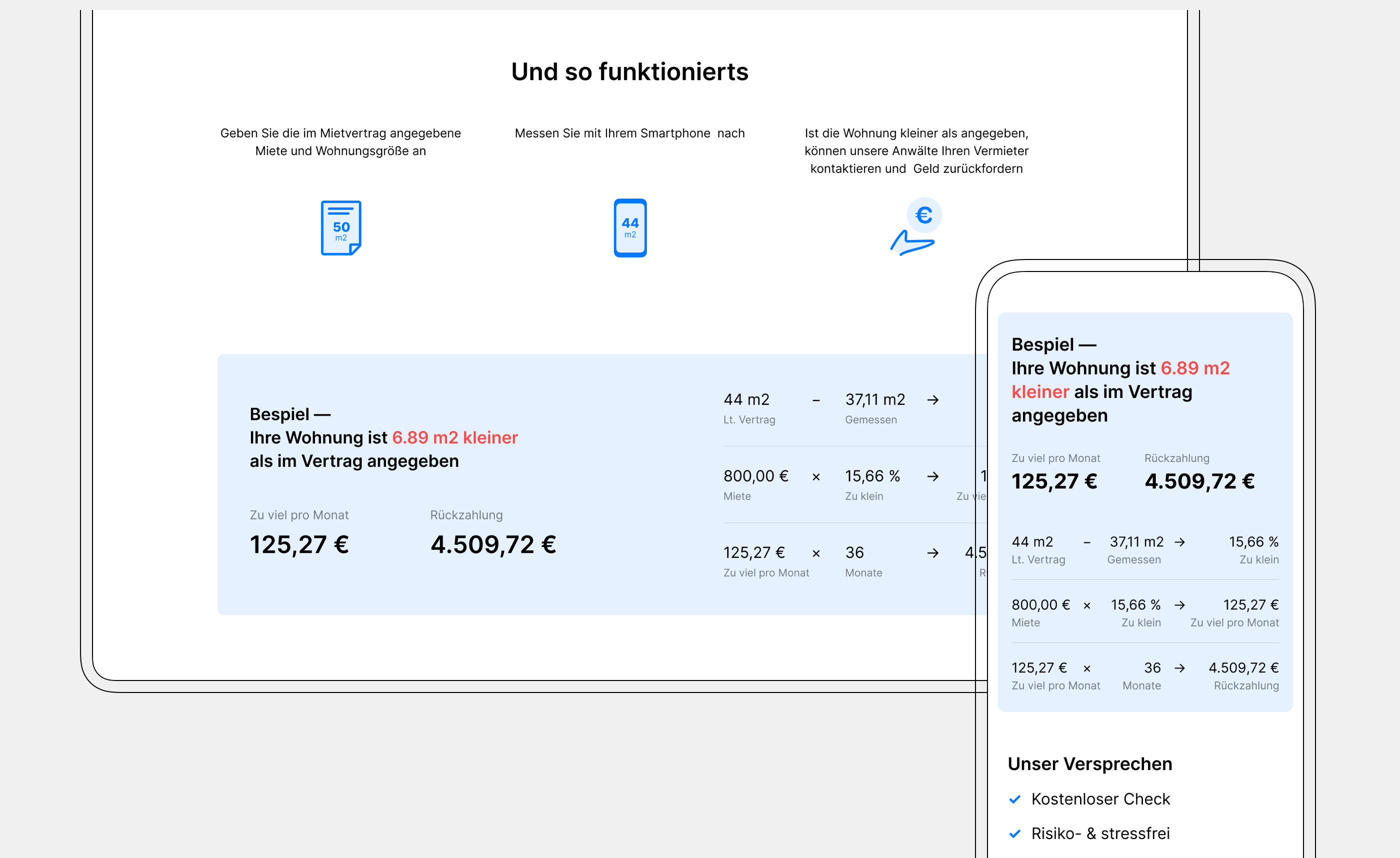 Roometric's domestic market is Germany.
— thank you